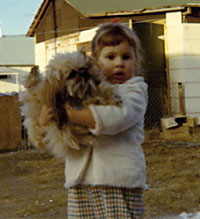 Heidi Wills
916 NE 65th Street, PMB 415
Seattle, WA 98115
http://www.heidiwills.org/
COLA Survey of 1999 Seattle City Council Candidates
1.Tell us about your experience with dogs.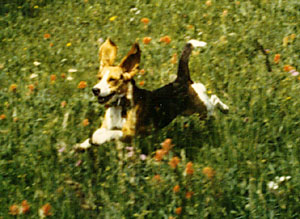 Dogs have been a part of my family all of my life. I was born into a family with two dogs: the furiest dog I've ever known, Sara (please see photo,) and an older dog named Spot. One of my favorite family pets was Bengi - The Jumping Beagle (please see photo.) Tragically, Bengi died in my arms a few years into his life after being hit by a car (hit and run.) Many years later, we had a beautiful, white Zamoyed named Zeesha. I do not own a dog now, as I am at the legal limit allowable for pet ownership in this city with 3 cats. My mother has two dogs, Molly and Zeke, who are also a part of my life.
2.Which off-leash areas have you visited?
I have regularly visited Volunteer Park's off-leash dog area. I jogged around it regularly when I lived on Capitol Hill. If elected to the Council, I would like to tour all the off-leash areas.
3. How would you balance the competing desires for dedicated public spaces such as ballfields, off-leash areas, boat launches, etc.?
I believe we must see to the needs of all citizens, from sports enthusiasts to boat recreationists to pet owners and their dogs. I would work to balance the needs of all competing interests so all citizens needs are served to the best extent possible.
4. Seattle Municipal Code states that the Volunteer Park off-leash area is a temporary site, but it will remain open until another location on Capitol Hill can be found for a permanent off-leash area. If no other location can be found on Capitol Hill, as a Councilmember would you vote to make the temporary site a permanent site?
Attempts are being made to find an alternative site. Yes, if an alternative site can not be found, I would vote to make the temporary site in Volunteer Park a permanent site. Capitol Hill is one of our city's most dense communities and an off-leash area is needed on Capitol Hill. Volunteer Park is large enough to provide for the needs of all residents in the area, including dog owners.
5. How would you allocate funding amongst competing city-supported recreational activities: i.e. ballfields, off-leash areas, boat launches, etc.?
Please see response to question 3.
6. Given that off-leash areas have proved to build community, deter crime, and provide a place for voting, taxpaying citizens to recreate with their family and pets, where would you support siting additional off-leash areas?
I concur with the above statements and would work with community leaders, interested groups, and COLA to find locations for additional off-leash areas.
7. When you are elected to the Seattle City Council, will you vote to support off-leash areas?
Yes. Many dog owners live in small homes or in apartments and their dogs need off-leash areas. Dog owners in urban areas must have outdoor places where their dogs may run free for exercise and for recreation. This also allows opportunities for community connections and interaction between neighbors.
8. If you don't respond to this survey, can we assume that you believe dog off-leash areas are "for the birds"?
We are certainly sharing our off-leash areas with birds, too.
9. Please add any comments you would like to share with our members and supporters.
I am a huge animal lover. The city can certainly provide off-leash dog areas for dogs and their owners, and I will be an advocate for all animals in this city and for pet owners. Animals enrich our lives and help people live longer and more satisfying lives. I hope everyone will have the opportunity to love an animal in their lifetime.